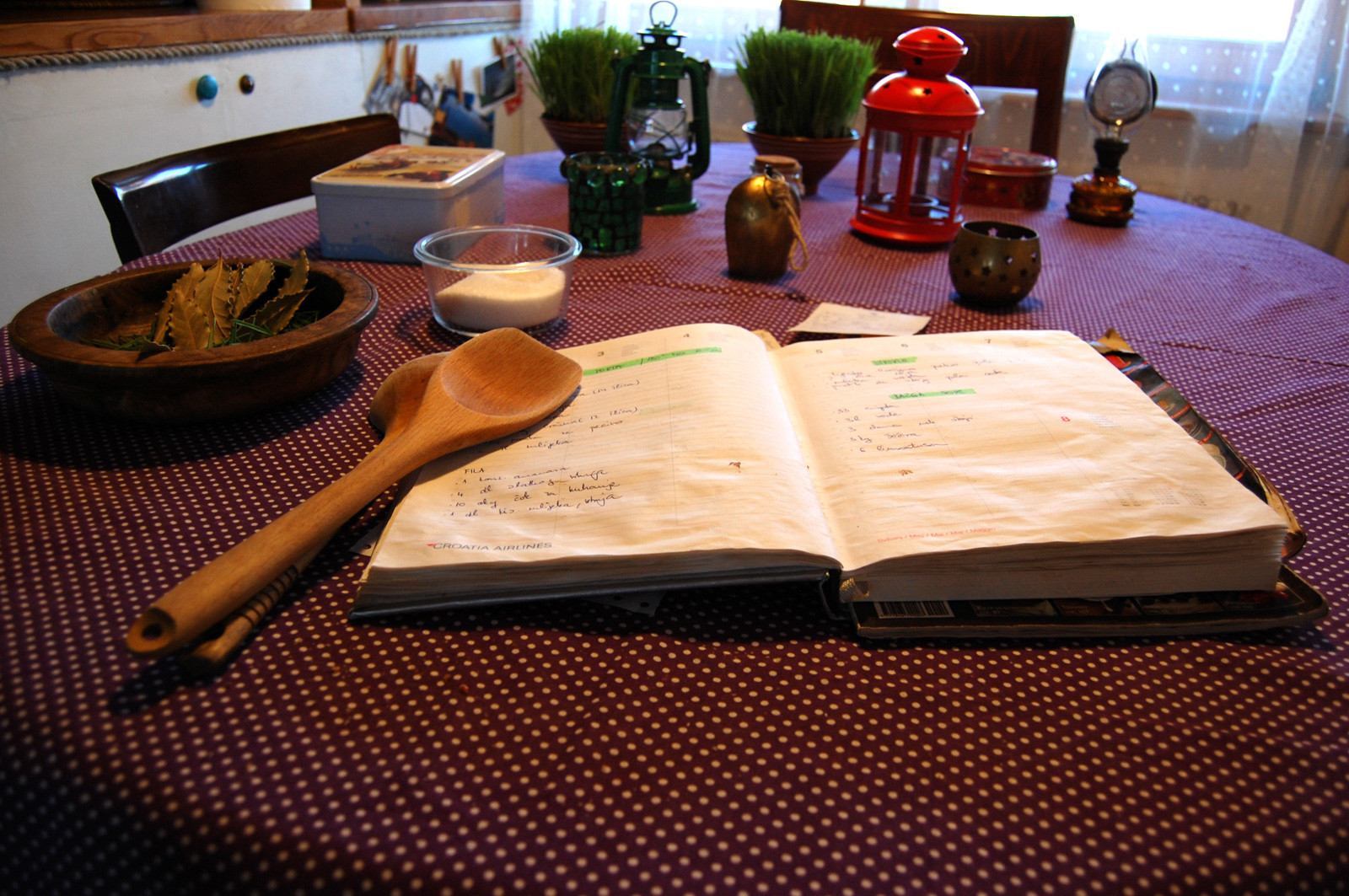 There are times when I do not know what to cook (and cook one must). I overturn inwardly, my bowels, and I'm deaf to their ideas. I take " disheveled scrap-scratch pad" – a home cookbook (Food network does not help) and read in the order, seeking an ideal recipe, a lottery win for that day: Branka's chocolate cake, Ivana's fondue sauces, Papa's recipe for cough, Branka's cheesecake (from another Branka), Igor's goats , yummy lentil by Ines, Grandma's lokum-Turkish delight, Grandma's profiteroles, Somebody's mint syrup, Vjeko's stuffed pancakes, Jagor's cake from the end of kindergarten, Homemade slice, Maca's spaetzli, Davor's seitan, Vesna's biscuits, Your chutney, Amila's tortillas, Perfect color for painting, Arnesa's Smurfs, Pizza pastry from a Belgrade Chef, Mirjana's cake with little cherries, Grga's pickled cucumbers, Helen's sticks, Spectacular Spekulatius, Beti's Sour Cabbage, Bear goulash from wild boar, Sweet&sour à la Ivana, Miki's yeast dough, Senad's Grandma…
All of these listed names, were dinners, breakfasts, birthdays, celebrations with dear friends…once. We shared them together, licked both fingers and plates. By writing those recipes down, I've inscribed these people into my stomach too. Into my guts. Some I am still digesting, some are fermenting, and with some I still gladly cook cook.
I am in some bluish Sevdah mood today. As if I did not drink enough Donat mg mineral water. And yes, today I miss some of these old friends. From lacking, I'm hungry. My bowels fizzle hollowly. Incurably hungry, and then again satiated with everything.
Definitely, love goes through the digestive tract, and mine just swan in! Constipation is guaranteed today for somebody else, because today I'm listening, on loudest, the song from Kemal (Monteno) "Thank you all from the time of the roses" and spawning the Bosnian pot stew! If you are desirous and hungry, stop by for a ladle of melodie,salt and rosemary, former friends, future friends!